5 of the Best Social Media Fails From Businesses
The team at Populate have pulled together their favourite social media fails from recent history to provide you with a closer look at why it is important to remember that our posts to the Internet are there for good.
5.Total Beauty
The world of fashion and beauty is one rife with danger and the ability to offend people with just a stare! American online publication, Total Beauty, took it one step further however, managing to confuse Whoopi Goldberg and Oprah Winfrey!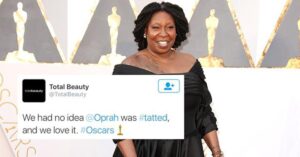 Lessons learned: Always do your homework! Social media fail!
4.Houston Rockets
Over in the USA, the basketball playoffs are one of the biggest occasions in the sporting calendar. When the Houston Rockets defeated the Dallas Mavericks, there was delirium across Houston. Excitement within the population led to mass outpourings of joy on social media, one such individual was Chad Shanks. He tweeted a gun emoji pointing at a horse emoji (the Mavericks mascot) along with the copy 'Shhhh. Just close your eyes. It will all be over soon.'
Innocent it seems? Unfortunately, Chad Shanks was the Digital Communications Manager for the Houston Rockets… safe to say he no longer works there!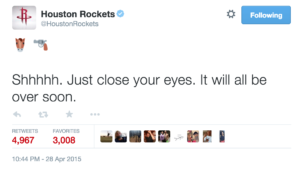 Lessons learned: Professionalism is key, not matter how emotional you may get! Don't forget, a picture paints a thousand words. Social media fail!
3.IHOP
IHOP have been successful with their light-hearted approach to Twitter however the line was certainly crossed when it sent out a sexist tweet to over 240,000 followers!
The tweet in question featured a product shot of their pancakes (delicious might we add), along with the copy, 'Flat but has a GREAT personality'. Fans were quick to voice their distain for the misogynistic tweet and the brand was forced to apologise. The damage had however already been done!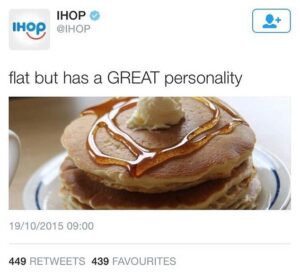 Lessons learned: Risqué is risky! Social media fail!
2.Coca- Cola
Coca-Cola had devised a campaign whereby users were tasked with tagging negative tweets with the #makeithappy as part of their Super Bowl campaign. These hashtagged tweets were then pulled in to a generator which turned them into cute art with some fancy code!
Gawker took advantage of this automated feature and created a robot which tweeted lines from Hitler's Mein Kampf with #makeithappy. As expected, the beverage giant then turned the manifesto into cute puppies and palm trees!
A rookie error from Coca Cola, they were forced to pull the campaign and apologise profusely.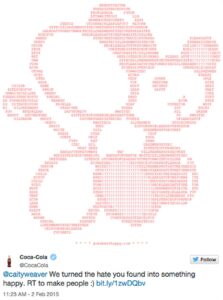 Lessons learned: Be extremely careful with automated processes.
1.Scott Disick
 Scott Disick, from Kardashians fame and now one of those social media 'influencers', is well known for his exploits online, making serious money! It is however then even more surprising at the blooper which bestowed his Instagram feed.
When publishing a post for Bootea, Mr Disick 'inadvertedly' copied and pasted what was clearly instructions from their marketing team rather than adding his own creative flair to the post!
A fail on Scott's part, however it has led to widespread news reports over the web and ultimately has probably pushed Bootea to an even wider audience! Fail for Scott, fantastic for Bootea.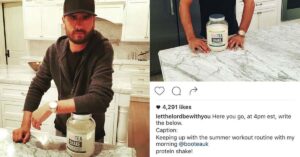 Lessons learned: Always read your posts before you hit publish. Social media fail?
Social media fails are undoubtedly hilarious but they can have a damaging effect on your brand. Social media is a fantastic resource for growing your business, but be aware of the pitfalls!
Have a project in mind?
Think we can make an impact for you? Give us a call or fill in the form so we can talk about your next social media campaign.
Get in touch.
Please complete the form below and one of our team will be in touch! Or, feel free to call us on 02920 253 850