The rundown.
Recognised as the UK's largest warehouse venue, Titan Warehouse has an impressive capacity of 10,000. The challenge? Launching the newest and biggest music venue before it's even been built.
Services
Paid Social Advertising, Content Creation, Messenger Bot
Sector
Events, E-commerce
The brief.
Our friends at Live Nation came to us with a goal – sell event tickets and lots of them. They required an expert social media agency to support the launch of their newest and biggest music venue, Titan Warehouse. We needed to create a buzz, and create it quickly. The buzz then needed to turn into ticket sales, whilst also building the Titan Warehouse brand on social.
How we did it.
We leveraged FOMO, with super technical social marketing to generate a solid return.
The strat.
The challenge? Getting people interested in an event that didn't yet exist. Armed with just a name, design concept and the UK's largest warehouse we felt the best way to gain traction for the new venue was to almost tease information out. Our initial stage set about gaining awareness. We implemented a strategy that prioritised sign ups, gaining interest in the event through using a custom-built messenger bot to engage and connect with the relevant audiences and wider community. From there we planned to drive revenue through paid social and leveraging the bot audience.
Implementation.
And so, with our strategy in place we got to work. We knew that if we could get people signed up to the messenger bot, we could release key information around the venue and what artists are playing when. Our custom built chatbot took a reactive approach, communicating with customers at every stage of the funnel. Enabling us to be able to watch ticket sales whilst reacting to sudden rushes, or dips on the ticket platform. We also hooked the chatbot up to some fancy artificial intelligence thats commonly used by Google to personally respond and entice customers. In total we built out around 2000 possible messages combinations to help boost the brands communication that delivered open rates of nearly 90%. We continued to drive engagement via Facebook live through a virtual event count down, revealing when the time was right, the main headline artists of the event. To further promote sign-ups only people who signed up were able to access tickets. We sold 3500 tickets in 20 minutes. Not bad.
Content.
To support the launch of the campaign we also created a series of short form videos that teased features of the warehouse from its impressive ceilings to old rusty bolts. We used smoke flares and lighting to bring the empty warehouse to life. The paid ads were structured around the video content warming people up and creating buzz. We also requested event photographers and videographers to document the first events, ensuring we had the right content moving forward. Throughout the campaign, we made sure social content was going out, and conversations were being had. We managed to exceed the sales targets for the first series of the event and doubled results for the second series.
The big tease
We filmed a series of teaser films which were released to mark the launch of the venue. At this stage it needed to be conceptual and build hype for what was to come.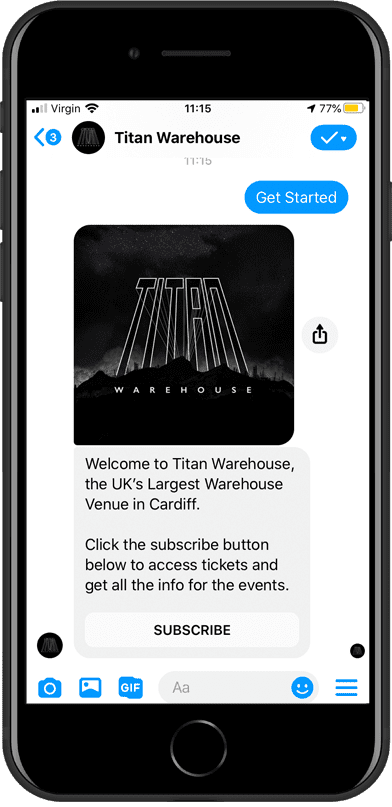 Building up a messenger bot
In order to engage with the target market we built a custom messenger bot to gather pre-registrations to the events. This was developed further to answer a huge number of queries from the target market as it neared event day. On the event day itself it was flipped to be a re-active customer service bot, dealing with the copious amounts of questions that revellers have.
Live stream launch
To launch the event and the line-up we put together a Facebook Live stream animation. In order to build up watchers we used a countdown style, with the lineup finally being revealed and played on loop. Facebook puts a big premise on live content and this was a fantastic way to ensure visibility on the content in a cost-effective way.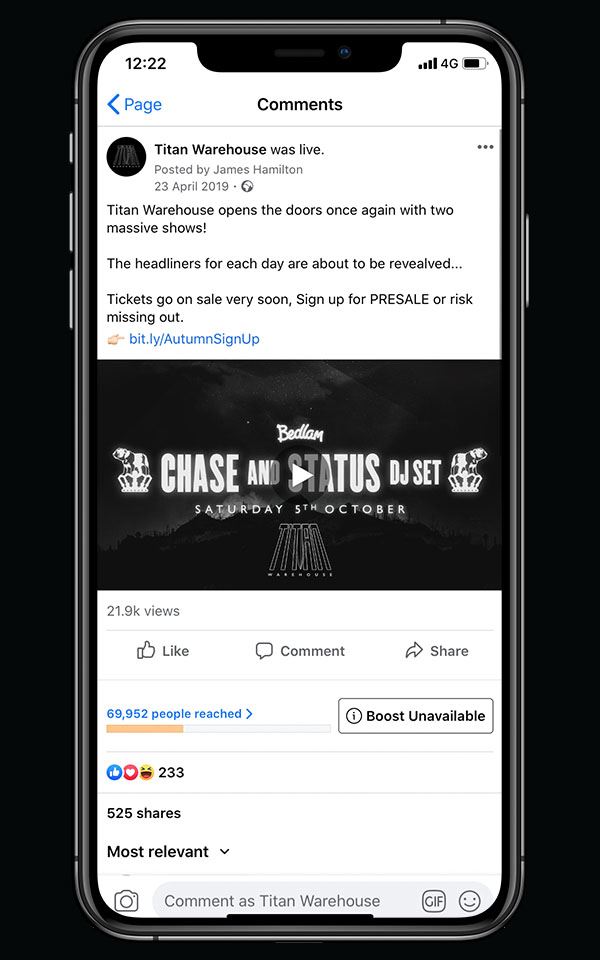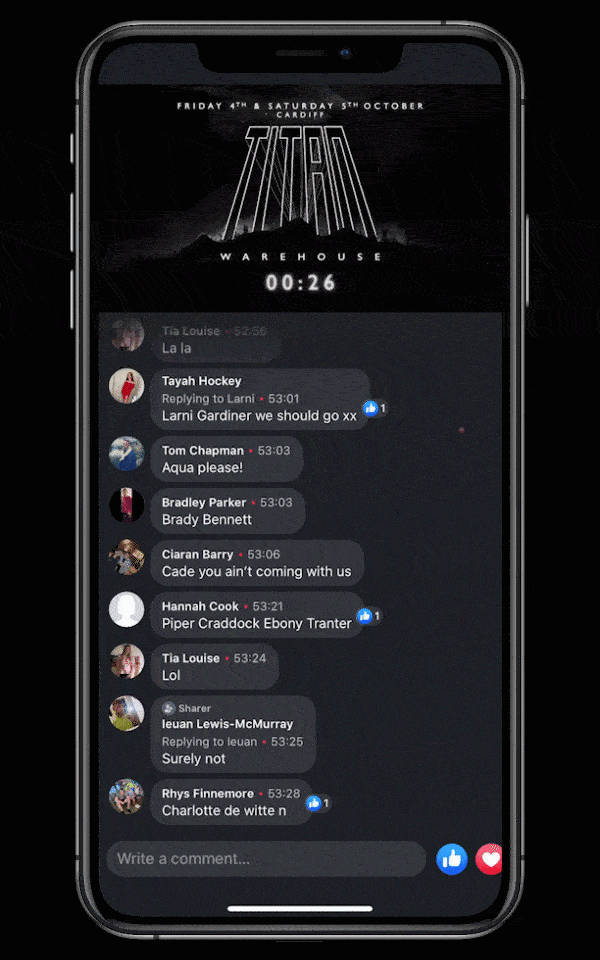 Driving sales and engagement
The next phase of the campaigns focused on driving ticket sales for the best cost of acquisition. We ran ads across multiple channels, combined with pushing an organic presence to build engagement which could be retargeted. We also ran ads from the pages of the artists to further reinforce the credibility of the event.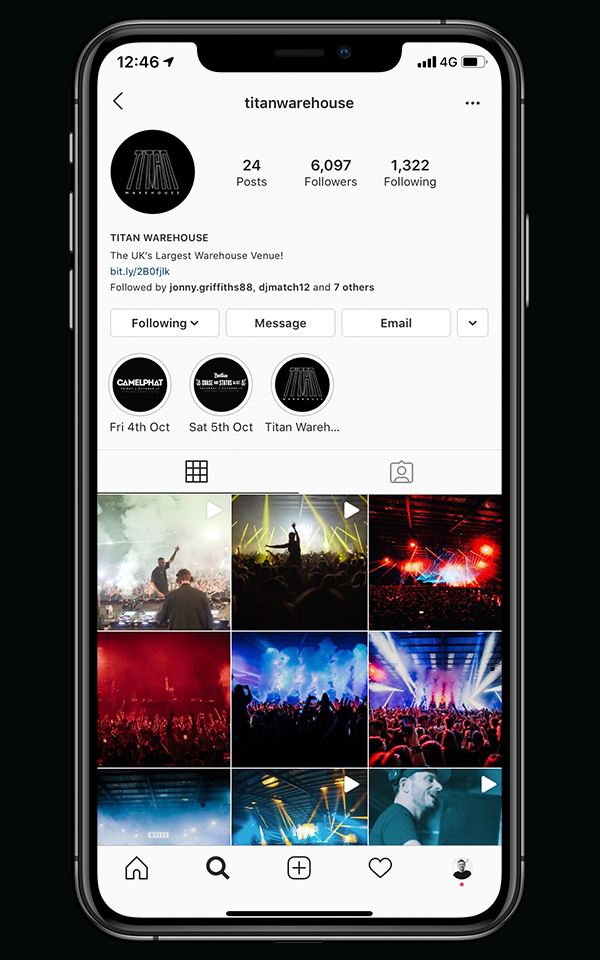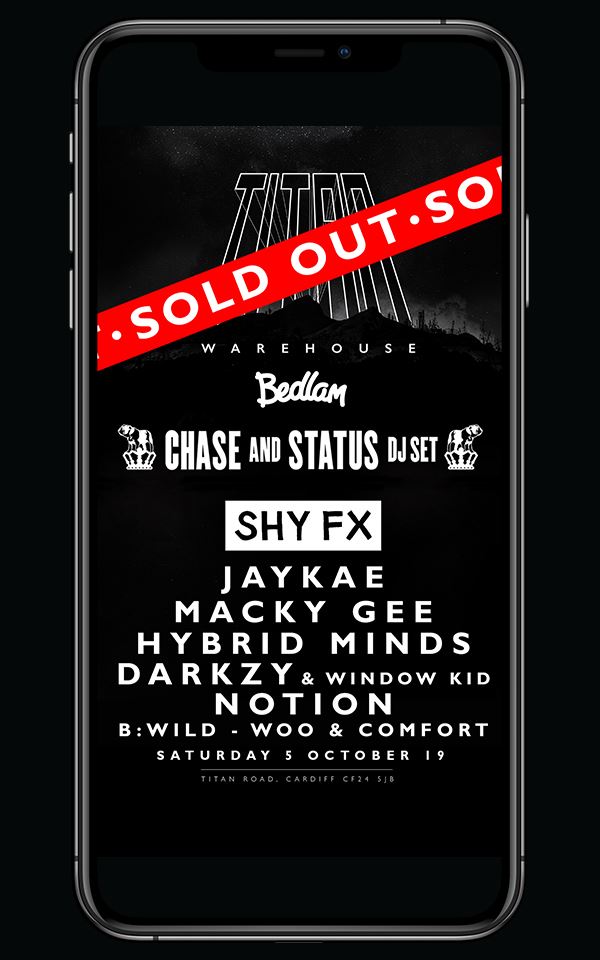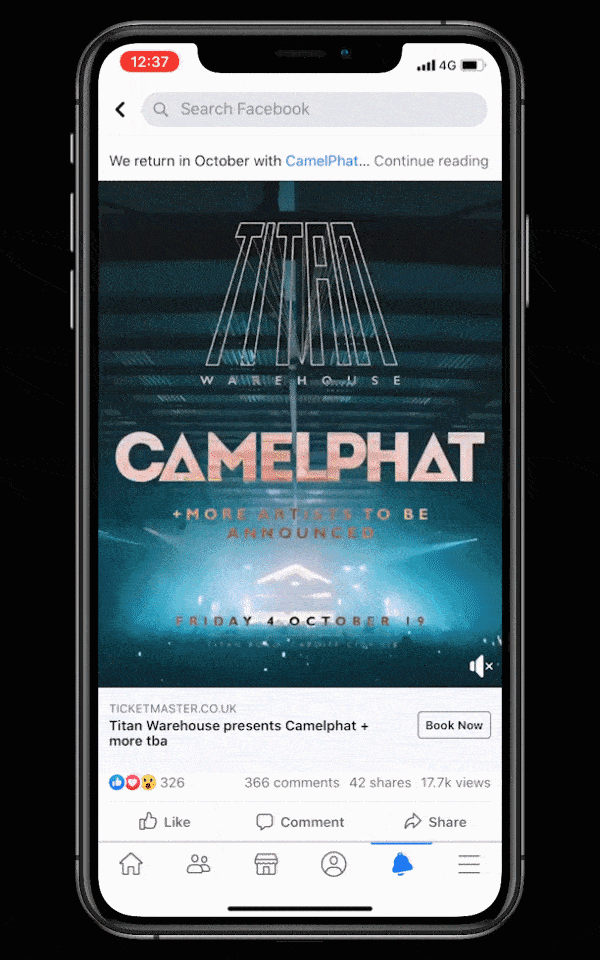 Don't just take our word for it
The events were a resounding success and this is no doubt due to the work done by the team at Populate. Taking an event from a standing start in an innovative way through social has been paramount to the success of Titan Warehouse.
Fancy a chat with us?
We'd love to chat about your project.
Let's chat
Please complete the form below and one of our team will be in touch! Or, feel free to call us on 02920 253 850.