Am I going to get Sued for using Trending TikTok audio?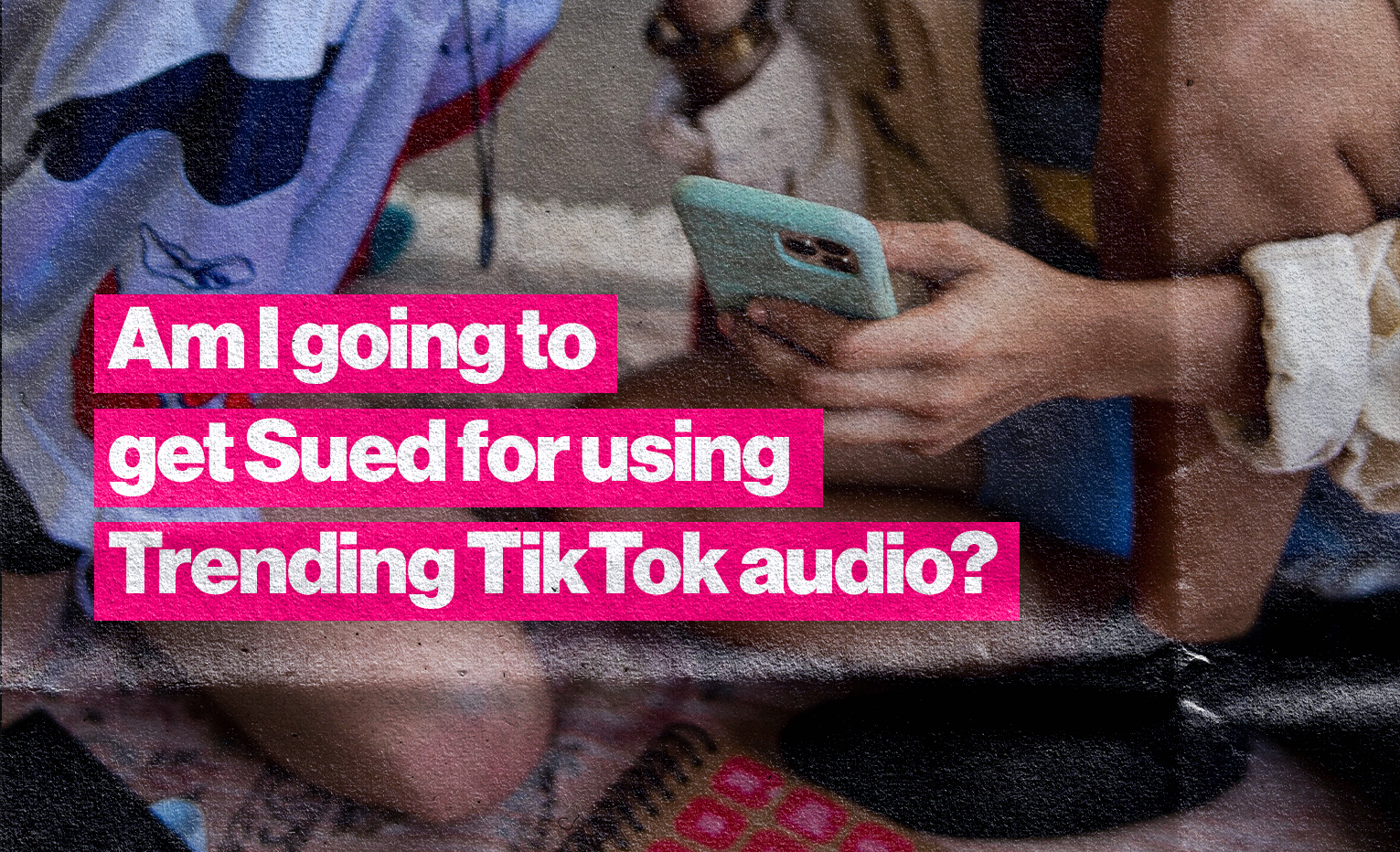 The Struggle is Real
We get it, You've just started using TikTok on your brand's account, and you want those first few videos to really pop off so you're tempted to use Trending TikTok Audio – but would it be worth it if you were hit by a multi-million-pound lawsuit? Yeah, we don't think your MD would be too happy about that either.
Brands often use trending songs and audio on TikTok and Instagram illegally, despite having access to these sounds through their account.  Major platforms often encourage brands to participate in audio trends, despite knowing that the brands are not legally permitted to use these sounds. Some brands have already faced lawsuits for using trending audio in advertisements or boosted posts. Despite the legal challenges, videos using trending audio tend to perform better than those that don't, so naturally, your mind goes to "How likely is it that I'm actually going to get sued?" Is it worth the risk?
Is it Worth the Risk?
When considering the use of trending audio, it is important to really think about if it's worth the risk. If your company has a legal department, what do you think they would say about the risk-to-reward ratio? Asking for permission to use a sound is possible, especially if the original source of the sound can be found (original audio posted by a user). However, just because a brand has access to a sound does not mean they have the legal right to use it, especially for ads or boosted posts. Brands should always ensure that the audio they use is royalty-free or owned.
Licensing is Complicated
So how can you use a trending song without the risk of a lawsuit? The current music licensing, really doesn't make it easy for you.
Copyright law has two different copyrights, one for the sound recording and another for the composition (including lyrics and sheet music), which can often by owned by two separate entities. This means, if you wanted to licence it, you'd need to get a licence from both.
So what can you do instead?
Use 'Original Audio'
To do this, reach out directly to the original creator and follow the guidelines for obtaining permission to use user-generated content. – In our experience, they've usually agreed.
Use TikTok approved audio
The audio already ad-approved by TikTok really isn't that bad, there are plenty of choices, and you can even see which ones are popular by using their audio library in the creative centre.
Make your own.
Get creative, why not make your own? Or alternatively, use something like Epidemic Sound to find your own audio and attach it before uploading.
In Conclusion
it's important to keep in mind that just because you have access to a sound on platforms like TikTok or Instagram doesn't mean you can legally use it. Brands need to be careful and make sure they have the proper rights and permissions before using any audio, especially for ads or boosted posts.
This is something we've tried to be really cautious about since we brought TikTok content into our offering, so if this sounds like too much of a headache for you, get in touch, and we can take over for you.
Audio Legality is too much, please do it for me.
Let's jump on a call and have a chinwag! Or, if speaking to humans fills you with dread, send us an email!
Let's get this conversation started
No lawsuits, please.