Why your Marketing Campaigns are Failing on TikTok.
It's a complicated space to navigate
It's no hidden secret that Tiktok has dominated and revolutionized the social media landscape as we know it.
With a staggering 40% of the TikTok community not on Facebook and 45% not on Instagram monthly, it's clearer that now more than ever, marketers are missing out on pools of 'untouched' audiences from not utilising TikTok effectively.
But there's an art to mastering TikTok. It can (but doesn't have to) be a complex space to navigate.
This boils down to two things:
Tricky algorithms
Increasing the speed of conversions and increasing the average customer spend.
Complex consumer culture
Increasing the number of customers at a lower cost.
How to Beat the Algorithm:
Similar to how the Instagram algorithm works, TikTok serves users' posts they engage with. For example, the more users interact with a particular account, audio, trend, or theme – the more likely they will see more content from it.
When a video is uploaded, TikTok will randomly show it to 100–500 users between popular videos. This way, it can evaluate if the footage gets attention. Meaning even if you only have a handful of followers on TikTok, your video could still skyrocket to success!
This ability to join in with a particular, niche interest area creates communities that translate into TikTok's iconic 'For You' page (FYP).
Ultimately, TikTok prioritises 'good content.' The tricky part is working out how to create the kind of content that resonates with TikTok users. After all, the content and style of TikTok content are much different from those on other social media platforms.
So, what qualifies as good content?
One of the easiest ways to master your content is to understand TikTok culture.
This social media platform has enticed the minds of so many and has created a culture that promotes products intentionally and unintentionally.
What goes viral tends to be positive, happy, fun, creative, and groovy, with successful brands gaining fans for being authentic and honest with their content.
Here's what you could start to do today: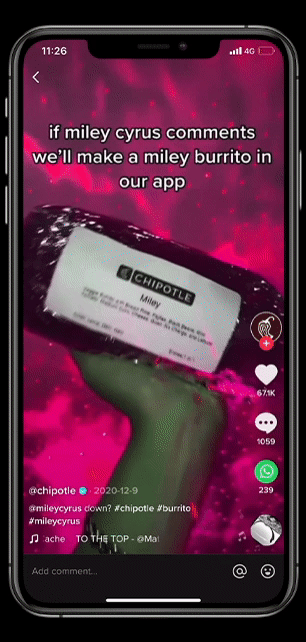 Use COMEDY
Comedy is one of the most effective ways to engage with users on the platform. TikTok allows users to make content faster and more creatively than ever, hence why we see some of the most woke, informative, and diverse comedy ever created on a social platform. The jokes come quickly; much like the length of clips, you'll need to condense your punch-line to accommodate their bite-sized, shareable content.
Little Moons
For example, the mochi ice cream brand 'Little Moons' has attracted over 231.4K followers and 3.0M likes. Usually, we would see polished, mouth-watering content from a desert brand. But not these guys! Instead, they focus on creating short, comedic videos usually piggybacking off TikTok trends.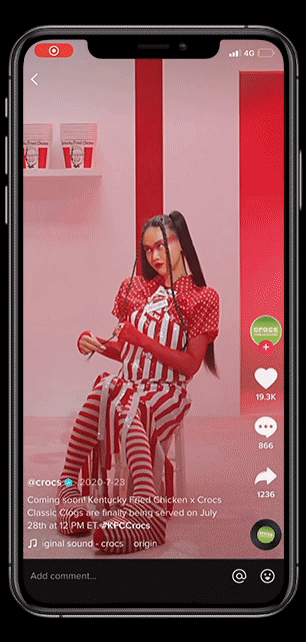 Be AUTHENTIC
Leave all hardcore promotional content at home. The authenticity and intimate setting TikTok allows means users are not there to be sold to, in the traditional ways we might be used to on Instagram or Facebook. On TikTok, authenticity comes before aesthetics — That means abandoning the pursuit of perfection, embracing the platform for what it is.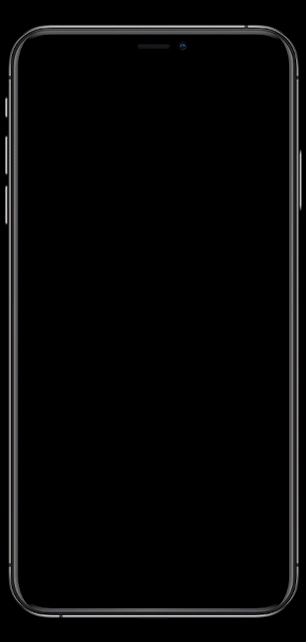 TRENDS are your BEST FRIEND
TikTok is an app built on trends. Leveraging trends allows you to show your personality, take advantage of the fun and entertaining side of the app, and get more exposure. Identify upcoming trends that align with your brand, then incorporate those into your marketing strategy. Unlike other social media platforms such as Instagram or Facebook, you do not focus on creating wholly original content. Reactions, collaborations, duets, and challenges tend to perform best on TikTok and are super easy to implement. Lost on where to start looking for trends? Look no further! 'TrendTok' is a TikTok Trend and Analytics tool that helps you spot viral trends and sounds!
Download the app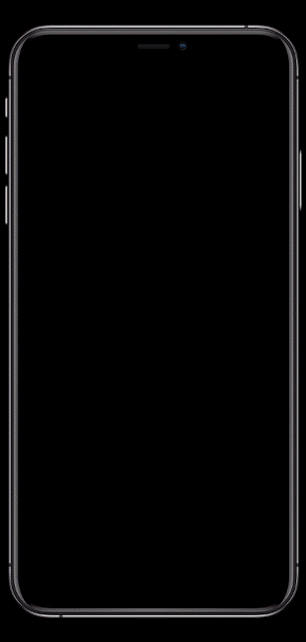 Make it FUN
TikTok is all about gags, personality, and inspiring creativity. You don't need to have access to expensive camera equipment or production budgets to make good content. By revealing your brand's true personality, users will feel connected to you and relate to you, which builds trust. Make the most of TikTok filters and effects to spice your videos up. These filters and effects will help your videos stand out. Plus, the more appealing your videos are to TikTokers, the higher chance of them appearing on the 'For You' page.
Nandos
Cheeky Nandos anyone?! Nandos UK has taken cheeky to a whole new level! On TikTok they are pros at joining in on light-hearted conversations and responding to audience comments and desires!
Now let's discuss different methods TikTokkers themselves recommend to beat the dreaded TikTok algorithm!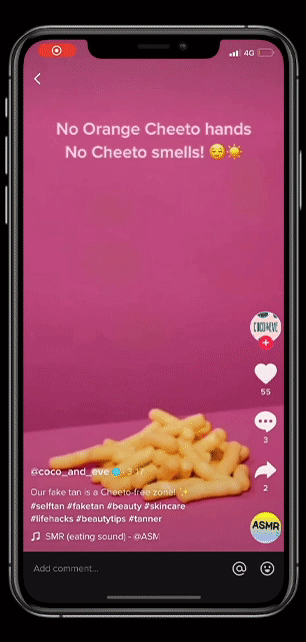 Optimize for SHORT ATTENTION SPAN
Tiktok users have a shorter attention span. The FYP keeps the user's attention by creating a constant curiosity about what is to come next. There is an overwhelming amount of content to consume, and you are competing for attention. Keep TikTok videos around 10-15 seconds as a general rule of thumb.
Five Methods To Help Beat The Algorithm:
All social media platforms operate on an algorithm. Coming to grips with TikTok's algorithm can help you work with it and improve your odds of success.
So what are you waiting for? Let's explore the various ranking factors at play and how users are closer to solving this mystery and are sharing their clues on how you can leverage them to get your content to fly on TikTok.
Method 1: Add Viral Audio
While there's no magic recipe, coming to grips with the TikTok algorithm can help you work with it and improve your odds of success.
Create your video

Use the correct trending audio in your video.

TikTok is full of popular music that you can use at any time. 

Click on the white plus button at the bottom of your screen.

Tap on 'Sounds' at the top of your screen.

Scroll through the playlists like 'Trending' or 'Featured.'

If your content uses both the hashtag and song, your video will show up on both the sounds and hashtags feeds, helping your content reach more viewers. 
Method 2: Quick Wins 
@valerie_lisitsyna has 542.6K followers and over 5 million likes on her content.  Here she shares her quick-fire tips on how to beat the TikTok algorithm.
DO:
Use hashtags relevant to your video

Post 1-3 videos a day

Use trending songs

Engage with TikTok users
DON'T:
Use #fyp hashtags

Post 1 video a week

Use random songs

Only watch content
Method 3: Do Not Delete Videos
(Unless it breaches TikTok community guidelines, of course!).
Old TikTok videos can go viral even when they do not succeed initially. Some speculate that TikTok rotates and tests different sorts of content on the FYP.
So the more content TikTok has to experiment with, the better.
Here is a theory by @jennyvalles on why you should never delete your old videos… 
When you first post your TikTok, it is pushed out to a small group of people (most likely your followers).

If they like it, then TikTok pushes this video out to another group of people who will most likely engage with your content 

When people stop commenting, liking, or sharing your videos, this is when your video views stop and decreases your chances of going viral 

That is why it is always essential to a) Pick a niche, b) stick to creating remarkable content c) post consistently 
If you delete your old videos, you are potentially decreasing the reach of your others.
This brings us to the next tip on how to create further reach on old videos. 
Method 4: Respond to Old Comments
Users have realised that older content has resurfaced on their FYP. 
So, if you want your older videos to pick up again, we recommend you respond to old comments. Overall, TikTok appears to be awarding evergreen content. 
'@wavewyld' shares that TikTok stated that your content has a 90-day lifespan.

If you want your older videos to pick up again, it is recommended to respond to old comments.
Overall, TikTok appears to be awarding evergreen content.
This leads us to our next question: what is evergreen content on TikTok?
Method 5: Make Engaging Content to keep Users on TikTok
"I had to delete TikTok because I was spending too much time on it." "Once you start scrolling on TikTok, you can never stop." It is no secret that TikTok is highly addictive, thanks to the personally curated recommendation algorithm. 
'@tiktokwithbao' highlights that TikTok's primary goal is to make users stay on the platform. This suggests that if your content keeps users on the platform, it ought to go viral. 
Here are four questions to keep in mind when creating your next TikTok: 
Is your TikTok interesting right up until the end?

Is it rewatchable?

Does it invite people to comment?

Will they want to go on my profile? 
What have we learnt?
Ultimately, there is no way to "hack" the TikTok algorithm. But by using the tips above and by creating quality content that resonates with your audience, you'll give your videos a greater chance to be seen by more people.
Now, new-found TikTok guru, go put your newfound knowledge to good use! 
Let's build your brand with TikTok Ads
Let's jump on a call and have a chinwag! Or, if speaking to humans fills you with dread, send us an email!
Let's get this conversation started
If you're ready to be pushed and step outside your comfort zone, it's time to get to work. Fair warning - we'll tell you how it is, even if it hurts. We're going to test your limits. Because that's how you get to places that once seemed impossible. Of course, we'll be right beside you. Guiding. Supporting. Encouraging.